Mafalda Cinquetti

Mafalda Cinquetti und die Dame mit Hund
Mafalda Cinquetti and the lady with a dog
German-language novel, 2023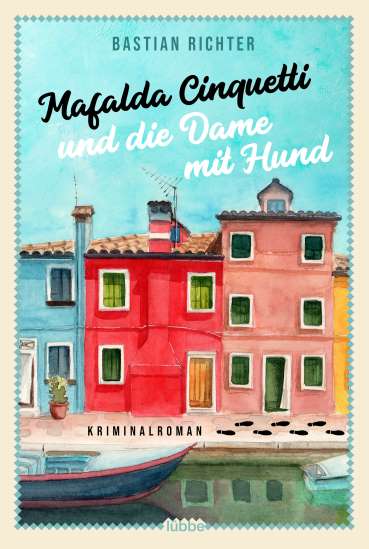 We are going to the Lagoon of Venice!
It was quiet on this website for a very long time. And there's a reason for that: April 2023 my new crime novel was published by Lübbe in Cologne. The transition to the new publisher took time, but now everything is in place and the exact schedule has been set.
Police widow Mafalda Cinquetti lives a quiet life on the Venetian lagoon island of Murano. Until the world-famous Peggy Guggenheim Collection in Venice is attacked. It is not so much the destruction of the works of art that upsets Mafalda, but the quick arrest of rumrunner Beppe. Mafalda knows Beppe, and yes, sometimes she finds him tiresome or annoying. But Mafalda knows he would never be capable of that act. So she decides to take matters into her own hands. Together with her two best friends, Mafalda sets out to find the real culprit – not knowing that in doing so she is putting her life in danger….
Mafalda Cinquetti und die Dame mit Hund is available now at Amazon.com in the US and at Amazon.co.uk in the United Kingdom.
Video Preview (with English subtitles)
A small English language preview can already be found on social media on Instagram, Facebook, Mastodon and Twitter and of course on www.mafaladacinquetti.com